Bed and Breakfast Holiday Charente Maritime Poitou Charente SW France
B&B Bed and Breakfast St Jean Dangely Brandy Region Chambres d'hôtes
St.Jean d'angely is a quaint Tudor village on the Charente river. A beautiful town that could be transported onto the stage of any musical.

The Parc des Loisirs, has a large boating lake, mini-golf, adventure playground, swimming pools, fishing, skateboard park, beach-side bar and restaurant, set in acres of landscaped garden. Across the bridge is St.Jean d'angely, with its markets, shops, bars and good selection of well priced restaurants.

Rub shoulders with history as you wander through the town that played host to John the Baptist's head, plundered by the Normans, granted a Royal Charter by England's King John and in 1562 almost destroyed by the Huguenots. Visit the Museum, Abbey, Gothic church, Covered Market (originally a Herb Market!) - the list is endless.
Our B&B is located just 25 minutes south of
St.Jean d'angely
St.Jean d'Angely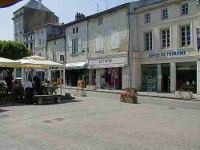 Sightseeing
Gite du Calme
Bed and Breakfast