Gite du Calme - Gite Self Catering Holiday Rental Poitou Charente SW France
Fresh Water Fishing in the Charente River
What they say is that the Charente River, which is 5 minutes drive from our Gite accommodation is it calls for tough gear as river carp are totally wild and they fight like mad!
The River Charente is tidal for some distance inland and is a good habitat for large specimens of carp, perch and pike. There are also bream, roach and bleak. Mullet come in from the sea. In May and June shad swim up river to breed.
Facts about the fishing season in the Charente Maritime
For all fresh water fishing you will need a fishing permit.
(Obtainable from the cafe in our local village of Cherac.)
Fishing is allowed during the season from half an hour before dawn to half an hour after sunset. Carp may be fished 24 hours a day but at night only on specially prepared and precisely delineated boats.
The other exception to this rule is for eel being fished without a hook but on what the French call a boul de verre, in which case you may fish for eel until midnight.
Gite or B&B
What better than coming back to Gite du Calme an exclusive, spacious self catering gite accommodation or
bed & breakfast
after a good days fishing in the Charente river. A Charantaise farmhouse near Cognac. Local independent Cognac houses where you can taste Cognac, Pineau or wines and buy directly.
Fishing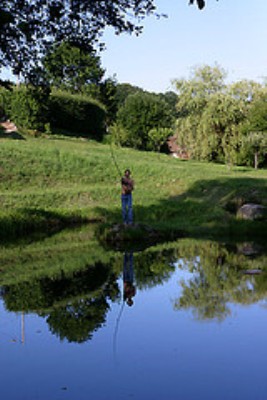 Cognac Gite holiday farm house Charente Maritime Poitou Charente SW France