Gite du Calme - Gite Self Catering Holiday Rental Poitou Charente SW France
Oysters
Try not to leave without tasting Charente-Maritimes most famous gourmet product - oysters. With 500km of protected coastline the department is Frances largest producer of oysters, and Marennes Oleron is synonymous, for French gourmets, with the mollusc that is cultivated there. Even prehistoric man enjoyed eating them, as shown by the huge number of shells found in archeological sites, but it was the Romans who first started to cultivate them. They became even more popular during the Renaissance and oysters were fattened in specially dug beds (claires) in salt marshes which allowed for fresh sea water to wash through regularly. Production grew considerably in the XIXc, as the salt works declined, and regulations were introduced to prevent the further destruction of the region's natural resources.
Daily food markets
Everyday in virtually every town apart from Monday's you will find an open or undercover street market selling fresh fruit, vegetables, mouth watering cheeses, pate's, meats and fish including the delicious home grown oysters and mussels. The first Monday of every month the whole of Saintes is cut off to traffic and is one enormous market selling everything from food, clothing, fashion accessories, fishing equipment, plants in fact too many things to mention, a good day out.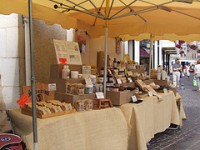 click
Golf
10mins
Two fabulous 18 hole courses very close to Gite du Calme are in Saintes and Golf du Cognac offering reasonable green fees and superb facilities. They both have good restaurants and golf ranges if you just want to practice.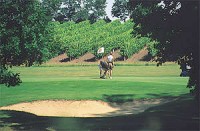 Local Area 1


Cognac Gite holiday farm house Charente Maritime Poitou Charente SW France